More than one in three Finns don't believe that mobile or tablet applications are secure, our nationwide survey reveals. What's more, a fifth suspect that mobile apps secretly charge them when they aren't looking.
A significant percentage of Finnish consumers are concerned about the security of mobile applications downloaded onto their phones or tablets. According to a recent survey we commissioned, no less than 34.4% of Finns don't trust the data security of applications.
Read more from our previous article Survey: One in three Finns struggle with smartphone storage, a fifth don't know what notifications are
The survey charted mobile app and online service use in Finland and was carried out before the Vastaamo psychotherapy center's data breach.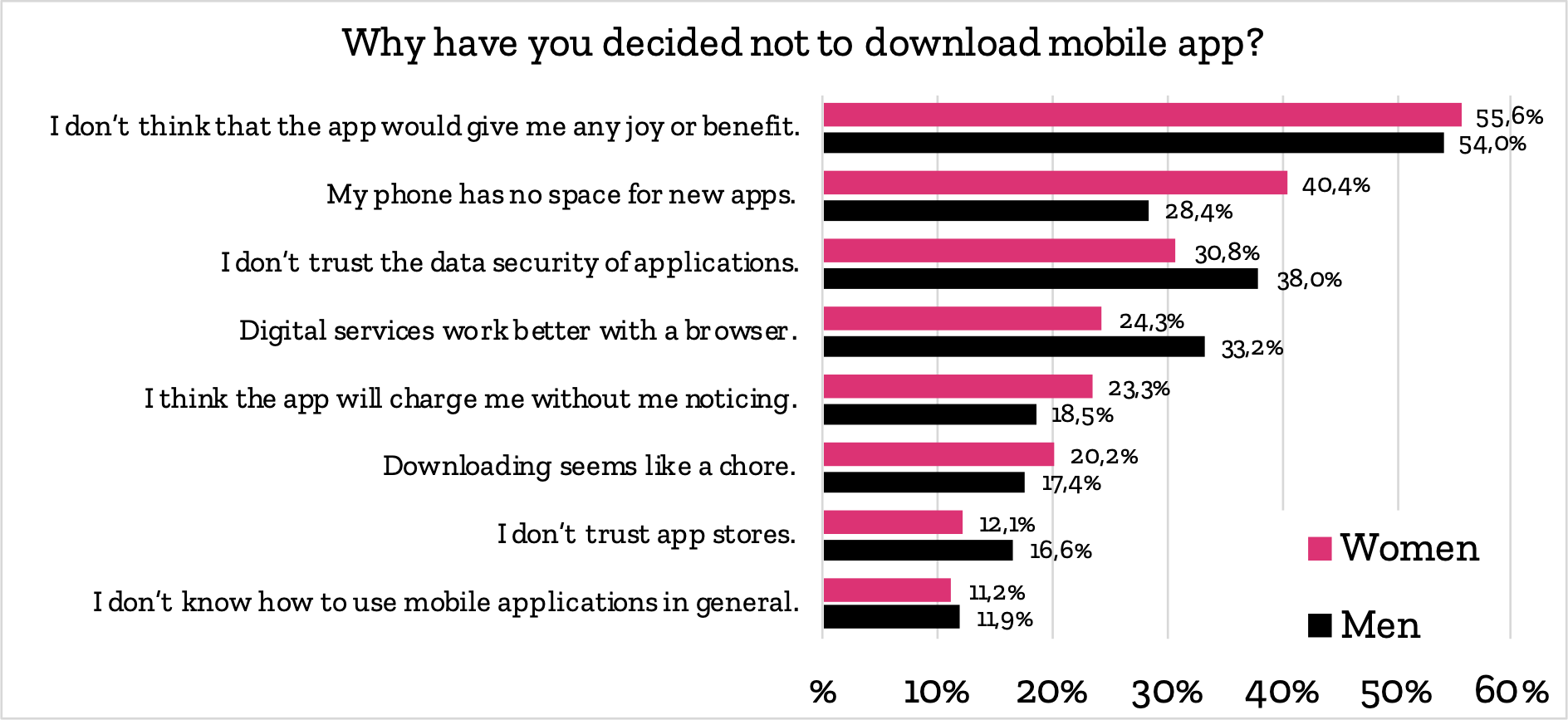 Based on the survey, men are slightly more suspicious of apps than women. Nearly four out of ten men (38%) had refused to download an app due to data security concerns, whereas only 30 percent of women reported having done so.
Finns fear hidden fees but trust the app store
The survey revealed that more than one in five (20.9%) Finns suspect their apps of charging them for something without their noticing. On the other hand, faith in app stores is strong in Finland. None of the respondents had declined to download an app because they didn't trust the app store.
"Consumers appear to be well informed of the difference between stores and apps. I'm not aware of a single issue related to app stores. On the other hand, there is so much discussion about unexpected fees and the data collected by apps that these results are hardly surprising", says Qvik's Head of Design, Matias Pietilä.
"It's not so much about data security as about data use. It is a technical feature of mobile applications that they are able to collect more information about their user than online services. And that information can then be used for good or evil. The issue is in the headlines all the time, and the industry is reacting too. Just this autumn, Apple's iOS 14 update improved the privacy of users in a number of ways."
Many self-employed people leave apps on the shelf
Worries about the security of mobile applications are particularly relevant if you happen to run your own business. According to our survey, more than four in ten (43%) entrepreneurs decline to download some applications due to data security concerns.
Lack of trust in app security is slightly more prevalent in the older age groups than among the young. The survey data shows that a whopping 39.4 percent of those aged over 65 have thought better of downloading an app due to data security concerns.
On the other hand, only a bit over a fifth (22.8%) of under 25-year-olds are so afraid of security defects that they wouldn't download an application.
Senior citizens know their way around the app store
According to the survey, usability is not an obstacle to downloading mobile applications. More than four out of ten (40.5%) respondents to Qvik's survey think that downloading applications from their familiar app store is easy.
It is a commonly held belief that the elderly have trouble with technology. In light of this data set, it's exactly the opposite.
Our survey shows that the recently retired and those nearing the end of their career use app stores fluently. Over half (51.6%) of the 55–64 age bracket think that downloading and installing apps is easy. And almost half (47.4%) of respondents aged over 65 shared this view.
"There's a lot of talk about the friction related to installing mobile apps. This data shows the other side of the coin: people of all ages are familiar with installing apps", Pietilä says.
Those in their golden years also stick with their apps. Roughly one in four (23.8%) Finns stop using an app or online service if it feels difficult. But much fewer, only 17.1 percent, of the 55–64 age group reported doing so. In contrast, more than a third (30.8%) of the middle-aged, that is, those aged 35–44 quickly throw in the towel.
Our electronic survey was taken by 1,000 people aged 18–75 in late October. Half of the respondents were men and half women, and the sample was representative of Finland's adult population. The margin of error of the survey conducted by research company Bilendi is 3.1 percent.
Illustraion: Aija Malmioja