Careers
Qvik is not only beautiful code. To develop truly amazing things you need to combine it with courageous business thinking, thoughtful design, and the perfect growth engines. We want to create necessities, and the most important thing is that you like what you're doing. Join us, won't you?
Pizza&Beers @ Qvik
Casual tech/design/wild card talks and demos enjoyed with some fizzy refreshments and food! Invite yourself and your friends to relax, kick back with us and get a hunch of the QVIK breeze. Welcome!
NEXT EVENT
THU 16.3.2017 at 1700
TALKS
TBA
Beyond work
Qvik started out as a group of friends hoping to deliver saucy code and digital services, yet have an awesome time while doing so – and the spirit of those startup-like times has definitely never left us. We enjoy each others' company outside of work too, mostly doing sports or nurturing our other passions, like music or food. You'll find us traveling together all year round, and we do hope you join us. Up for an adventure?
Open culture
Building meaningful digital services that have a lasting purpose means constantly evolving both as individuals and as a collective. Easy-going office, an open culture and self-organising teams ensure we all find the way to our most desired direction. We're not all the same, which lets everyone contribute to the mix in their own personal way.
Get to know us!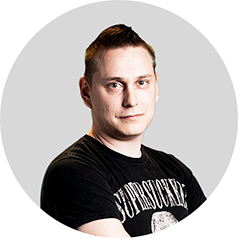 Jerry Jalava
Jerry is a real wild card full of surprises. He's our Senior System Architect and Nordic's first Google Developer Expert – but he has also worked in a circus for about 10 years as a magician, and had the World's first USB-prosthesis. What the… – right? Jerry is constantly looking for new backend friends – so if you'd like to work with Jerry, contact us!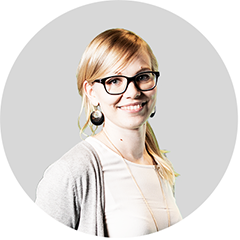 Liisa Stenberg
As Qvik's AD, Liisa designs digital experiences and balances beautifully between making the most awesome products there are and realizing what's not going to happen within the time and resources measured for the project. At her spare time, Liisa pours her gushing creative energy taking photographs and writing books – like, actual books that will get published.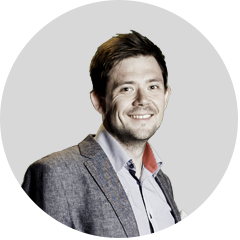 Matias Pietilä
Matias is Qvik's own modern renaissance man. He's our head of design, and as a member of Qvik's board he's also there navigating Qvik's overall direction – but in addition to that, he helps to boost our marketing and sales whenever necessary. If you need a professional opinion, feel free to ask Matias. Also, if you want to hear a joke told with a poker face, ask Matias.