Your company may be among those that have recently witnessed record growth in their digital channels. Now's the perfect time to focus on building customer loyalty.
When physical interaction has been replaced by digital contact during the coronavirus pandemic, the immediate winners have been companies that already had a strong digital presence. The rest are (or should be) now racing to digitalize their operations and channels as the only option to keep their business running.
Qvik recently asked consumers about their preferences regarding online shopping and how their thoughts have changed during the pandemic. According to our nationwide survey, over 37% of the respondents believed that they will keep on making more online purchases after the epidemic. Furthermore, around 35% of respondents said that, during the epidemic, they are more interested in loyalty programs than they used to be.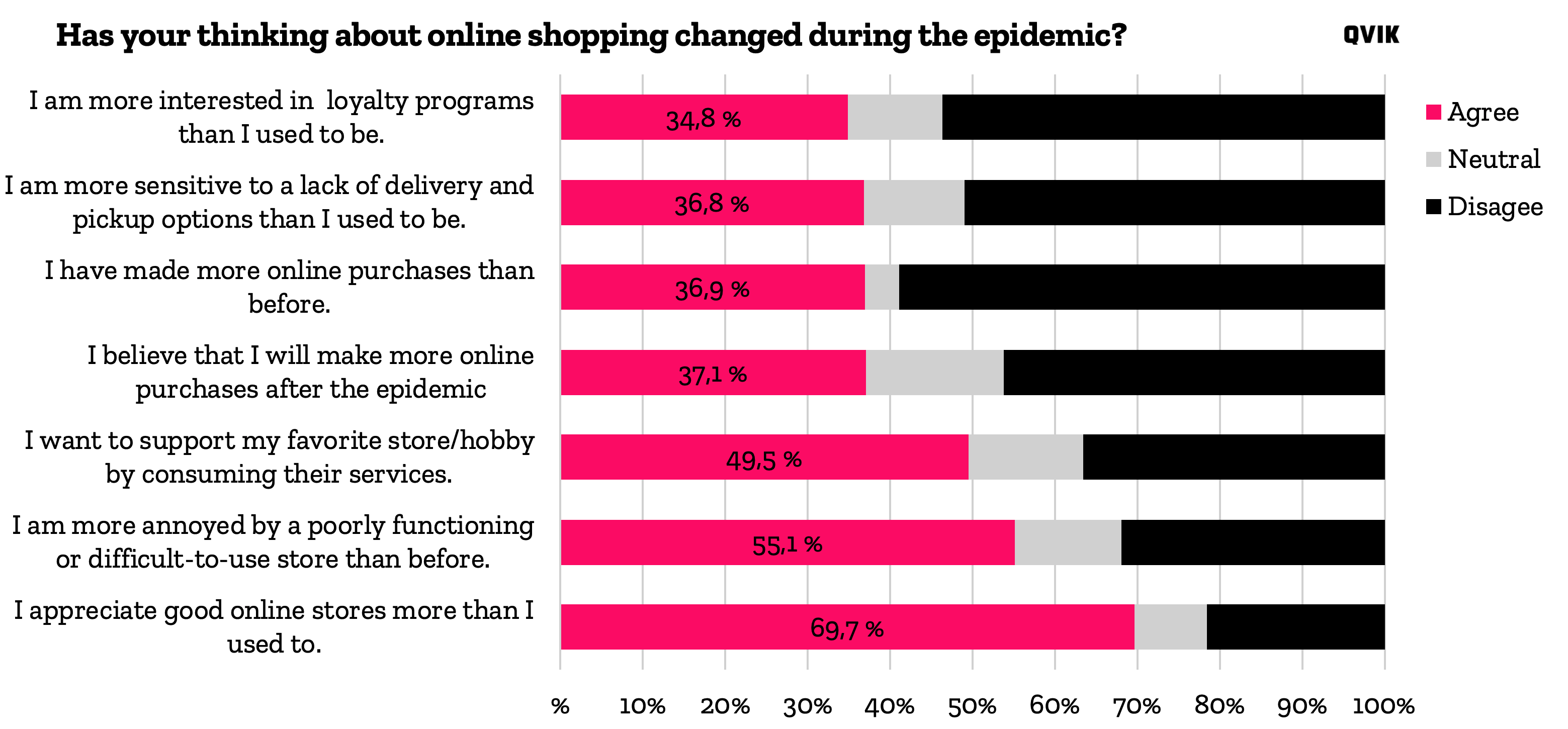 While customer acquisition may have been the main sore spot for many marketing and sales teams, one could say COVID-19 took care of making your digital service relevant for customers.
Once society eventually opens, will your customers continue to use your digital services?
That is a question companies and investors are asking globally. What we do know is that the situation has forced us to adopt new ways of working, purchasing, managing our businesses and spending our free time – and some of the services have succeeded in proving their value or convenience during this time.
It is likely that some of these services will stay in our new habits. Investing in building customer loyalty will make that scenario even more likely.
As an example of the huge change going on, Yle recently reported how the corona crisis has raised the popularity of online food shopping to a record high (figure). According to Yle, customer volumes for example in Kesko's online food store K-Ruoka have been more than 800% up some weeks. We are talking about an unseen change in customer behaviour – providing a valuable opportunity for companies who are able to react quickly and invest in customer loyalty.
Every marketing expert knows that retaining existing customers is much more cost-effective than acquiring new ones. This means that right now, companies witnessing strong growth rates in customer volumes should put extra effort on keeping the customers they are now gaining. What makes it challenging is that today's consumers have more options than ever.
Switching from one digital service to another is effortless. That is why we are obsessed with customer loyalty – and personalized customer experience as its driver. 
If your company is among those that have already invested in digital channels in the past and are now witnessing strong growth rates in them – congratulations! Take a sip of that champagne and get back to work – because now is not the time for rest, but for investing in keeping those customers and building loyalty.
Here are some questions that can get you started:
How to do systematic habit building to become a part of your customers' everyday life?
How to build multiple communication channels to better reach your customers?
Illustration: Niina Nissinen